Pokemon TCG Simplified Chinese for Mainland China - Going "All-in"! (February 2023 Update)
This is a follow-up to the original article from October 2022 on Pokemon TCG Simplified Chinese release - "Pokemon TCG is Launching in Simplified Chinese for Mainland China, Starting with Reprints of Sun & Moon Favorites!". March 2023 update also available - "Pokemon TCG Simplified Chinese Sun & Moon - Wrapping Up Three Years of the TCG in Six Months (March 2023 Update)". September 2023 update also available - "Pokemon TCG Simplified Chinese Sword & Shield - Still Catching Up, but Less Frantically (September 2023 Update)".

Hope everyone has been having a great start to 2023! Over here in East Asia, things have finally opened up post-pandemic, which of course means some long overdue Pokemon-related travels (to be documented on our newly-created Instagram). Now onto the main topic - a follow-up on Pokemon TCG Simplified Chinese four months post launch into Mainland China. Many of you have been sending us questions over chat and e-mail, so let us unpack it all here for you, and boy do we have A LOT to unpack!
Going "All-in"
When we initially covered the market entry of Pokemon TCG into Mainland China, we had predicted that it would be done with a bang. Fast forward four months later, the market entry has surpassed all expectations thus far. From the massive offline marketing campaign at the iconic Bund in Shanghai during initial launch, to bringing back Japanese exclusives like Full Art Sightseer in Crossing the Sky - Blue (CSM1c C), to continued product innovation (Lillie's Support Gift Box, Eevee GX Gift Box), one thing is clear - Pokemon has been going "all-in" on the market entry of its TCG into the most populous nation in the world.
Lillie's Support Gift Box
Released on November 11th, 2022 in China (Single's Day, which is China's Black Friday), Lillie's Support Gift Box (CSML C) instantly sold out both online & offline. And need we say more? Lillie, Sun & Moon's protagonist featured in an exclusive box set, including a full art and lots of other goodies. In fact, the demand was so overwhelming that Pokemon China released a statement immediately following the launch reassuring trainers that there would be another wave, which is currently slated for end of April.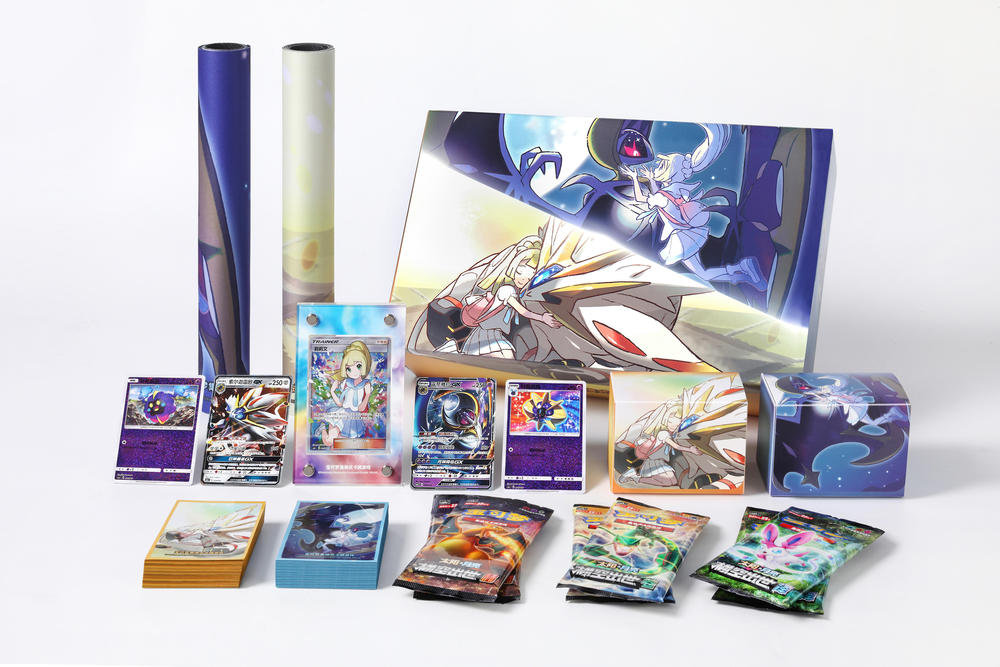 The First Expansion - Battle Elite
Released on December 16th, Battle Elite (CSM1.5 C) is the expansion to the first set release. Apart from being contender for ugliest box/pack art in Pokemon TCG history, there are a couple noteworthy cards to call out! First is Full Art Lisia, highly sought after from Japanese set Sky-Splitting Charisma (SM7). Second is Rainbow Lugia, chase from Japanese set Explosive Impact (SM8). As a result of good fortune, both were pulled by yours truly (photos below). Full set list from Bulbapedia, and below.

Battle Elite

Eevee GX Gift Box
Just when we thought our wallets were safe for a little while after the holidays, Pokemon had other plans in store leading up to Chinese New Year (China's big year-end holiday). Released between January 6-13th, 2023, the Eevee GX Gift Box (CSMY C) collection is a must-have for all Eeveelutions lovers out there. From the product packaging, to the exclusive Rainbow Eeveelutions, to the Eeveelutions-themed card sleeves and binders, we personally can't recall any other product quite like it in the hobby's history. The only downside? The boxes are HUGE, making it difficult to ship these to collectors in other parts of the world at a reasonable price.

The Second Set - Shining Together
Up until this point, there had only been one product launch per month (first set in October, Lillie in November, first expansion in December, Eevee in January). However, January was the first month where we saw not only one, but two launches. Released on January 18th, Shining Together (CSM2 C), the second main set of Pokemon TCG Simplified Chinese, is jam packed with truly some of the best cards from the Sun & Moon era of Pokemon TCG (aka "Shining Synergy" on Bulbapedia). From Tag Team Alternate Arts, to the original Character Rares, to Japanese-exclusive Tag Team Golds, the second set combines basically everything from Japanese set Tag Bolt (SM9, aka Team Up in English), to Dream League (SM11b), to Tag Team GX All Stars (SM12a). List of chase cards by set below.

CSM2a - Pink
CSM2b - Purple
CSM2c - Teal
CSM2d - GX Starter Deck
Summary
What a ride it's been in just a short few months! We've personally had a blast opening up these sets again many years after their original release. As the Simplified Chinese version of Pokemon TCG is printed in Japan, the look and feel of the cards are comparable vs. Japanese version, and in some cases even sharper given the evolution of printing technology over the years. As usual, stay tuned to our blog - we'll continue to update as we learn more!